April 5, 2006
FLANNERY RECEIVES 2006 HUGH DURHAM AWARD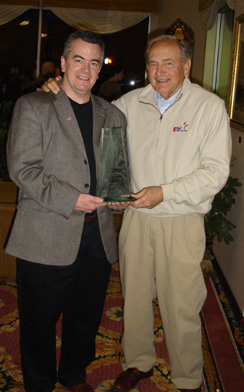 After leading the Bucknell to a second straight record-setting season, head coach Pat Flannery was named the recipient of the 2006 Hugh Durham Mid-Major Coach of the Year.

The 48-year old Flannery, who was also received the Hugh Durham mid-season honors, grabbed nine first place votes and received a total of 65 points, edging George Mason's Jim Larranaga and Wichita State's Mark Turgeon who finished tied for second with 32 points each. The voting was completed on March 12, prior to the start of the NCAA tournament.

"This is such a great honor," says Flannery. "To receive an award named after such a great coach like Hugh Durham is truly an honor. This award could have gone to a number of very deserving coaches. I want to thank Joe (Dwyer), Angela (Lento) and the entire voting panel for this award."

Flannery, a 1980 Bucknell graduate, skippered the Bison to a 27-5 season, a second consecutive Patriot League championship and a second straight march into the second round of the NCAA Tournament in 2005-06. Along the way, the Bison shattered the school and league single-season victory record and became the first team in Patriot League history to go unbeaten (14-0) in conference play.

The 2006 Bison also became the first Patriot League team to ever crack the national rankings. In addition, Flannery's team spent virtually the entire season ranked in the top five of the Mid-Major Top 25, climbing as high as No. 2.

"Pat embodies all that is good about college basketball," says voting panel member and CollegeInsider.com editor-in-chief Joe Dwyer. "He wins and his players graduate. Pat Flannery has always been all about class and dignity. This award couldn't go to a better person."

Not to be overlooked, Flannery's team led all members of the 2006 NCAA Tournament field with a 100 percent graduation rate, and his program's performance in the NCAA's Academic Performance Rate indicator was well above the national average.

In addition, the Bison set a school attendance record at Sojka Pavilion this season, featuring eight sellouts and the top 10 single-game attendances in program history.

Northern Arizona's Mike Adras (31) and former UNC-Wilmington head coach Brad Brownell (29) round out the top five.
2006 Finalists Announced | Bucknell's Pat Flannery earns mid-season honors | Pacific's Bob Thomason wins 2005 award