WINTHROP'S GREGG MARSHALL RECEIVES 2007 DURHAM AWARD

March 30, 2007

view the 2007 Hugh Durham Award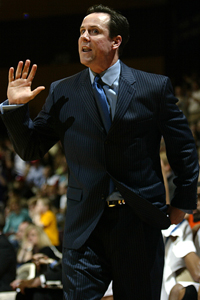 After leading Winthrop to a school record 29 wins and the school's first-ever NCAA tournament win, head coach Gregg Marshall has been named the recipient of the 2007 Hugh Durham National Coach of the Year award.

Named after the legendary Georgia and Jacksonville head coach Hugh Durham who is the only coach to ever lead two teams to their first and only Final Four appearance (Florida State in 1972 and Georgia in 1983), the award is presented annually the top mid-major coach in America, as determined by a 20-member voting panel. The voting was completed on March 1.

"Gregg has been doing an outstanding job since he took over nine years ago," says collegeinsider.com and Basketball Times mid-major columnist Angela Lento. "What Gregg has accomplished in his time at Winthrop is comparable to any program in America. He wins and he wins with class."

Marshall's team played the most challenging non-conference schedule in school history with the four losses all coming to teams ranked 20 or better in the polls; North Carolina, Maryland, Wisconsin (in overtime) and Texas A&M.

The Eagles claimed wins over Mississippi State, which won the SEC West and advanced the NIT Final Four. They had an impressive win at Missouri State, which participated in the NIT, in an ESPN Bracket Buster contest. The Eagles also knocked CAA runner-up and NCAA participant Old Dominion.

In league play Marshall led the Eagles to the first unbeaten conference record in Big South Conference history (14-0) and finished a perfect 17-0 after notching three wins in the conference tournament.

Winthrop most of the second half of the season ranked in the top five on the Mid-Major Top 25 (collegeinsider.com) climbing as high as No. 2 and coming within three points of being ranked No. 1.

But Winthrop entered uncharted waters in the final rankings before the start of the NCAA tournament. For the first time in school history the Eagles were ranked in the USA Today/ESPN and Associated Press Top 25 rankings. The Eagles are ranked No. 22 in the USA Today/ESPN poll and No. 24 in the AP Top 25 poll.

Marshall received eight first place votes and edged out Butler's Todd Lickliter by two points. Lickliter, who received the mid-season coaching honors associated with the Durham award, received four first-place votes. Dick Davey (Santa Clara), Chris Lowey (Southern Illinois), and Bob McKillop (Davidson) also received first-place votes.

Previously know as the CollegeInsider.com Mid-Major Coach of the Year, the award was renamed in March of 2004 to honor coach Hugh Durham. Bob Thomason (Pacific) was the first-recipient of the award and Bucknell's Pat Flannery was honored last season.
2007 HUGH DURHAM AWARD VOTING
(first-place votes in parenthesis)
| | | |
| --- | --- | --- |
| Coach | School | Votes |
| | | |
| Gregg Marshall | Winthrop | 68 (8) |
| Todd Lickliter | Butler | 66 (4) |
| Chris Lowery | Southern Illinois | 52 (5) |
| Bob McKillop | Davidson | 28 (1) |
| Dick Davey | Santa Clara | 20 (2) |
| Mike Lonergan | Vermont | 14 |
| Anthony Grant | VCU | 13 |
| Orlando Early | UL-Monroe | 7 |
| Brad Brownell | Wright State | 6 |
| Houston Fancher | Appalachian State | 6 |
| Jimmy Patsos | Loyola (MD) | 5 |
| Blaine Taylor | Old Dominion | 5 |
| Cliff Waren | Jacksonville | 5 |
| Randy Rahe | Weber State | 3 |
| Howie Dickenman | Central Connecticut State | 2 |
| | | |
2007 Finalists Announced | Butler's Todd Lickliter earns mid-season honors