January 7, 2009
BUTLER'S BRAD STEVENS RECEIVES MID-SEASON HONORS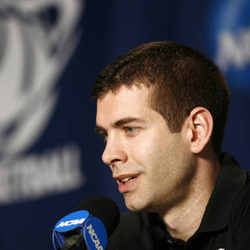 BOSTON (MA) -- Butler's 12-1 start has earned head coach Brad Stevens the Hugh Durham Award mid-season coaching honors. Stevens edged out Illinois State's Tim Jankovich.

"I truly enjoy watching Brad's team play," says Hugh Durham. "As a former coach I always look for two things, effort and execution. Brad's team gets an A+ for both. He has done a really nice job in short time as the head coach."

Stevens, who is now in his second season as the head coach of the Bulldogs, has seen his team lose just once this season, 54-51 at Ohio State. His team has posted five road wins, including wins at Bradley, Cleveland State, Drake and Xavier.

Butler began the season ranked No. 10 in the Mid-Major Top 25 and quickly climbed up among the top three where they have remained.

Stevens received seven first-place votes to edge out Jankovich (Illinois State). Rounding out the top five are Duggar Baucom (VMI), Randy Bennett (Saint Mary's) and Bob McKillop (Davidson).

Last season Stevens finished second for mid-season honors, behind Randy Bennett.

"Whom ever has the responsibility of hiring the coaches at Butler is doing a pretty good job," says Hugh Durham.

Stevens took over last season for Todd Lickliter who was named the head coach at Iowa. Lickliter received mid-season during the 2006-07 season.

Renamed after the legendary Georgia and Jacksonville head coach Hugh the award is given annually by CollegeInsider.com to the top mid-major coach in America. Drake head coach Keno Davis (now at Providence) was the recipient of the award last season, which was presented at the Final Four in San Antonio. This season's winner will be announced at the Final Four in Detroit.
FINAL VOTING (first place votes in parenthesis)

| | | |
| --- | --- | --- |
| Brad Stevens | Butler | 64 (7) |
| Tim Jankovich | Illinois State | 59 (3) |
| Duggar Baucom | VMI | 40 (4) |
| Randy Bennett | St. Mary's | 40 (2) |
| Bob McKillop | Davidson | 19 (2) |
| Ken Bone | Portland State | 11 |
| Brad Brownell | Wright State | 9 (1) |
| Marty Simmons | Evansville | 9 (1) |
| Bobby Cremins | College of Charleston | 9 |
| Billy Lange | Navy | 5 |
| Ken McDonald | Western Kentucky | 5 |
| Jim Woolridge | UC Riverside | 4 |
| John Brady | Arkansas State | 3 |
| Horace Broadnax | Savannah State | 3 |
| Mark Few | Gonzaga | 3 |
| Mike Lonergan | Vermont | 3 |
| Ritchie McKay | Liberty | 3 |
| Dana Altman | Creighton | 2 |
| Fran McCaffery | Siena | 2 |
| Rex Walters | San Francisco | 2 |
| Mike Gillian | Longwood | 1 |
| Rob Jeter | Wisconsin-Milwaukee | 1 |
| Greg Kampe | Oakland | 1 |
| Joe Mihalich | Niagara | 1 |
| Gary Waters | Cleveland State | 1 |
| | | |
| | | |
| | | |
| | | |